There are a lot of large aircraft flying. For instance let's look at the example, Antonov An-124.One of the larger planes ever. How many of them were built? 55. You might consider this a big number, however for example: Cessna 172- around 43 000 examples, over eight thousand B737, Flying Fortress- over 12 thousand. Ok, let's go back to big planes. 1502 Boeing 747s were built. Right, another large plane, the Airbus A340 (my favourite Airbus). Throught 20 years 377 were built.
Not all monstrous, gigantic and scarily big were so lucky. Some are old, some are relatively young projects. However they were all unsuccessful.
The list is in no order, it follows no rules of logic. Aircraft are limited to 5 being built.
BTW
Please write in the comments
, about what would
you like me
to do
a post about
. I have a leak (not really) in my brain, therefore I'm losing inspiration. Just a little bit, don't worry.
I'll try to do part 2, but I'm a little bit busy/lazy/lacking inspiration. Write down some aircraft that I can write about in Part 2.
:D
No.1. Nakajima G10N (0 built)
The Fuji Monster
Painting from Wikipedia.
From Fotolog by IJN 75
From Wikipedia
Japan faced problems with one type of aircraft during WWII. They never built an efficient strategic bomber. There were a few companies making aircraft, but the main one that wanted to finish the task of building a strategic bomber was Nakajima. In 1941 they first flew a plane called G5N, based on the DC-4. The specifications were quite decent, however the range was insufficient. Another, better, but smaller (sized) project was G8N. Again, the range didn't meet the expectations.
Nakajima didn't give up. They began work on a project called Project-Z. The plans were quite decent, but none sufficient engines were found, changing the design a little bit. It still was stunningly big for an WWII airplane. The G10N Fugaku (mount Fuji, sounds scary) was approved by the Japanese military. The project was enormous. It's capabilities were quite impressive for it's times. Even now they are very good.
General characteristics
Fugaku: 7 to 8
Length: 44.98 m (147 ft 7 in)
Fugaku: 39.98 m (131 ft)
Wingspan: 64.98 m (213 ft 2 in)
Fugaku: 62.97 m (207 ft)
Height: 8.77 m (28 ft 9 in)
Wing area: 352.01 m2 (3,789.0 sq ft)
Fugaku: 330 m2 (3,552.09 sq ft)
Aspect ratio: 12.1
Empty weight: 65,000 kg (143,300 lb)
Fugaku: 33,800 kg (74,516.24 lb)
Gross weight: 122,000 kg (268,964 lb)
Fugaku: 42,000 kg (92,594.15 lb)
Max takeoff weight: 160,000 kg (352,740 lb)
Fugaku: 70,000 kg (154,323.58 lb)
Powerplant: 6 × Nakajima Ha-54 36-cyl. air-cooled radial piston engines, 3,700 kW (5,000 hp) each at take-off
Fugaku: 6x Nakajima NK11A 18-cyl. air-cooled radial piston engines developing 2,500 hp (1,864 kW) at take-off
Propellers: 6-bladed contra-rotating constant speed propellers, 4.5 m (14 ft 9 in) diameter
Fugaku: 4-bladed constant speed propellers 4.8 m (16 ft) diameter
Performance
Maximum speed: 679 km/h (422 mph; 367 kn) at 10,000 m (32,808 ft)
Fugaku: 779 km (484 mi)at 10,000 m (32,808 ft)
Range: 17,999 km (11,184 mi; 9,719 nmi) maximum
Fugaku: 19,400 km (12,055 mi)
Service ceiling: 15,000 m (49,213 ft)
Wing loading: 456.99 kg/m2 (93.60 lb/sq ft)
Fugaku: 211.89 m² (43.4 lb/ft²)
Fugaku: 0.118 kW/kg (0.07 hp/lb)
Armament
In the autumn of 1943, works on production facilities began. The project wasn't however considered so important, many top Japanese engineers didn't work on it at all, or where moved to different projects. The US army was closing Japan, different aircraft were more important and project abandoned. The documentation of the plane was obviously destroyed.
No.2 Convair XC-99 (1 built)
Oversized B-36
Photo by USAF from Wikipedia
Source: Wikipedia and USAF
Based on the B-36, it was the biggest piston engine powered airplane, only smaller than the Hughes Hercules. Designed by engineers led by Roberts R. Hoover began work in California. The hangar they used was to small. That just means, that this plane is awesomely big. Yes, indeed. The design with six engines turned back, the design was meant to produce more "pushing" power.Check out the specifications:
General characteristics
Crew: Five duty + five reserve crew
Capacity: 400 troops
Payload: 100,000 lb (45,000 kg)
Length: 182 ft 6 in (55.64 m)
Wingspan: 230 ft 0 in (70.12 m)
Height: 57 ft 6 in (17.53 m)
Wing area: 4,772 ft² (443.5 m²)
Empty weight: 135,232 lb (61,469 kg)
Loaded weight: 265,000 lb (120,455 kg)
Max. takeoff weight: 320,000 lb (145,455 kg)
Powerplant: 6 × Pratt & Whitney R-4360-41 Wasp Major 28-cylinder air-cooled radial engine, 3,500 hp (2,611 kW) each
Performance
The plane was used in an impressive mission called "operation Elephant", transporting over 40 thousand tonnes of cargo (engines and other stuff used in building B-36 Peacemakers). XC-99 flew 19000 kilometres from Rhein AB to California, stopping twice. The XC-99 attracted everyone everywhere it went.
The USAF itself said they don't need such a big plane. One was only built as you have noticed. The XC-99 was retired in 1957 and is now preserved in Ohio.
No.3 McDonnell Douglas MD-12 (0 built)
The McDonnell Douglas Jumbo Jet
Courtsey of Anynobody and Wikipedia.
Same author and page as above.
The MD Donnell Douglas designers have shown a new design in 1991, it was basically a larger and modified MD-11. They called it MD-12X. The aircraft was meant to carry about 400 passengers. The MD-12 would be built out of composite material. The engines were placed like in the MD-11, MD Donnell Douglas designers didn't go so creative. Soon they changed it into a classic, A380 or 747 design. They also thought of the baggage hold to be in a way prepared for carrying passengers. In addition the cabin would have an area called the Panorama Deck, where 54 passengers could enjoy a view down. The tickets would have probably been very expensive, around 1000 Euros for a flight from Paris or London to New York, I guess. In the end a view of the Atlantic Ocean is probably very boring.The production was meant to start in 1994 and plane to fly in 1995. Eventually MD Douglas didn't have enough money and plans were deleted. Bye Bye oversized MD-12.
To make you happy, look at the specs:
General characteristics
Crew: 2 (pilot and co-pilot)
Capacity: Long range: 430 passengers (3-class) / High-capacity: 511 passengers (3-class)
Length: 208 ft 0 in (63.40 m)
Wingspan: 213 ft 0 in (64.92 m)
Height: 74 ft 0 in (22.55 m)
Wing area: 5,846 ft² (543.1 m²)
Empty weight: 402,700 lb (187,650 kg)
Max. takeoff weight: 949,000 lb (430,500 kg)
Powerplant: 4 × General Electric CF6-80C2 high-bypass turbofans, 61,500 lbf (274 kN) each
Performance
No.4 Conroy Virtus (0 bulit)
Double B-52 Mutant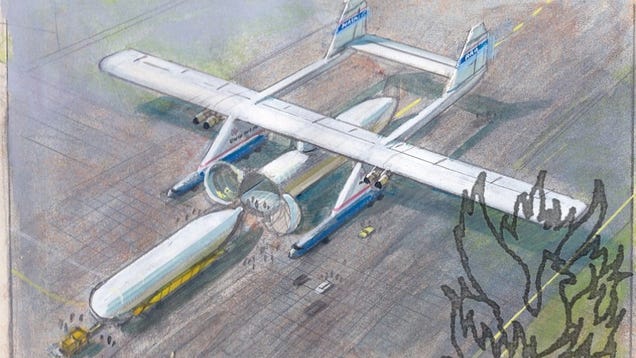 NASA picture
Frankly speaking, this is enormous and very unreal. Mutant double B-52 SCA twin tail aircraft. It was designed to carry a space shuttle between it's large wings. The design was meant to carry the space shuttle between the B-52 based fuselage. Where would the pilots sit?!
At first due to design changes in the Space Shuttle programme, NASA wanted a plane that can fly from Kennedy Space Center to an altitude, where the shuttle can continue it's journey to space.One of the earliest designs was the Conroy Virtus by John M. Conroy, the same man that deigned the Pregnant, Mini Guppy and Super Guppy. Guppily (has that word ever even been used!) crazy idea!
The design was basically a JT9D (747 engines) powered twin B-52 fuselage aircraft with a wingspan of around 140 metres. In addition, the Virtus could carry the shuttles rocket boosters and external tank.
A 1/34 scale model was tested in wind tunnels, with positive results. The problem was money. What a surprise! (sarcastic).The size let the plane down, and in addition, Conroy Virtus required bulding new, bigger hangars for the plane. Lockheed later proposed a crazy double C-5 design (with six engines), but NASA decided that they want a normal aircraft. Therefore there would be no double DC-10, 707, DC-8 nor nothing different. In the end, NASA chose the 747-100, not the most usual, but more normal than the Virtus.
No.5 Sukhoi KR-860 (0 built)
Do you want to fold the wings?!
Courtsey of Wikipedia
To explain my choice, read through the technical data. Most importantly size, wingspan, capacity.
General characteristics
Capacity: 860-1000 passengers
Length: 80 m (262 ft 6 in)
Wingspan: 88 m (288 ft 9 in) with the wings unfolded or 64 m (210 ft) span with wings folded
Wing area: 700 m2 (7,500 sq ft)
Max takeoff weight: 650,000 kg (1,433,005 lb)
Powerplant: 4 × General Electric CF6-80E1A4B turbofan, 320 kN (72,000 lbf) thrust each or
Powerplant: 4 × Pratt & Whitney PW4168A turbofan, 305 kN (69,000 lbf) thrust each
Performance
Cruising speed: 1,000 km/h (621 mph; 540 kn)
Range: 15,000 km (9,321 mi; 8,099 nmi)
The aircraft was designed by Sukhoi, a company creating mainly fighter aircraft. The company expected the plane to first KR-860 to be built by 2000. The programme would cost around 10Billion $. Not bad! The aircraft could fold the wings like the new 777X design. In addition the outboard engine would be folded.
A 1/24 scale (better than the Virtus, ;P) at the 1999 Paris Air Show, 10 years after the Antonov 225 astonished everyone with it's size. Mainly the US. The project didn't succeed, due to lack of potential customers (I do agree with it, it would be worse than the Il-96 IMHO) and money. Both combined and everything is dead.
No.6 Tupolev Tu-244
A failed remake of the Tu-144
Source:Wikipedia
The work on this SST began in 1979, when Tupolev design bureau wasn't satisfied with the Tu-144.This project was based on the Tu-144, but also the Tu-160; for example, the same engines. One of the new features were FBW system logics used to control the plane, video cameras to help crews and new fuel-cryogenic fuel, that requires keeping in low temperatures. Not a problem. Tupolev intended to build around a 100 Tu-244 aircraft. One minus in my opinion, the plane needed three crewman. In the end (1993, not an end of anything) Tupolev abandoned the project due to it's cost. All in all the Tu-144 is the only SST ever built by Tupolev. And the Tu-244 was only a plan.
Specifications:
General characteristics
Crew: 3
Capacity: 250/320 passengers
Length: 88.7 m (291 ft)
Wingspan: 54.77 m (179 ft)
Height: Unknown (Unknown)
Wing area: 1,200 m² (12,916 ft²)
Empty weight: 172,000 kg (379,000 lb)
Max. takeoff weight: 350,000 kg (771,600 lb)
Powerplant: 4 × Kuznetsov NK-321 turbofans, 33,000 kg () each
Height from ground (to the top of the tail fin): 16.9 m (55 ft)
Height from lowest point (engine): 12.45 m (41 ft)
Fuselage external width: 3.9 m (12 ft)
Fuselage external height: 4.1 m (13 ft)
Wing length (Root Chord): 54.7 m (179 ft)
Main gear track: 8 m (26 ft)
Max weight of fuel: 178,000 kg (392,425 lb)
Performance